Neolith's Full Spectrum
Celebrating 10th Anniversary with a special exhibition in Verona.
Neolith® will be hosting a special exhibition during Marmomac 2019. An immersive experience to celebrate 10 years in business where visitors can witness how Neolith® is championing sustainable production to become the most eco-friendly manufacturer on the market. The four day long exhibition will demonstrate the versatility of Neolith® as a product and a brand, that offers a multitude of architectural solutions with exceptional service quality, to meet any sort of vision a client would have. A one-stop shop to experience and engage with Neolith®, finding out why the brand is the global surfacing partner of choice for architects, designers and specifier
September 25-28
from 10:00am- to 6:00pm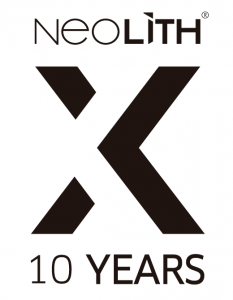 Crowne Plaza Hotel
Via Belgio 16, Verona – Italia
Gaze into the Neolith Rainbow
Discover the Neolith® breathtaking rainbow installation, made up of a melange of colors and patterns. A masterpiece, specially lit and staggered to create an illusion of continuity and reflect the aesthetic and functional qualities of the Sintered Stone. The Neolith® Rainbow will lead to six standalone stations which will introduce visitors to the brand and allow them to explore the versatility of the surface and its different contributions to the world of design and architecture, from bespoke decoration to proprietary products and finishes.
Taste with Neolith
Complementing the event, cookery demonstrations will take place at a dedicated station, highlighting how the material can be used in profes-sional and residential kitchen settings. Chef Federico Mugnani will delight the attendees with traditional recipes with his own personal distinguishing, touching the thrilling diners' palates.
Stop by the Neolith Food & Roll
Continuously roadtripping around European cities, the fully-functional, creative and mobile restaurant fully made with Neolith® will make a stop in Verona, to show off the variety of Neolith® applications and colors. A non conventional concept stationed to present the aesthetic and functional qualities of the Sintered Stone in an innovative way.